Major indexes are poised for new highs: 
But… Sell Bias remans.
Dominant selling  threatens this bullish scenario with three, clear distribution days weighing in on the tight range that's formed on the S&P 500 over the past few weeks.
A quick look at key sectors:
Financials haven't broken their downtrend as seen with the XLF experiencing heavy selling below its 50-day MA
Retail collapses below its major averages, perhaps a foreshadow of following through on a bearish head and shoulders pattern just like the S&P 500 is wound up in.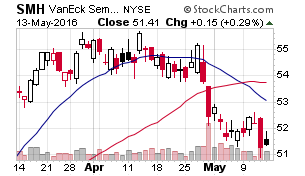 Semiconductors have been a downside leader the past two weeks. Never a good sign for the broader market.
Transports have also fallen out of a bearish head and shoulders pattern, dimming hopes of a new bull leg after its 50-day MA crossed above its 200-day MA a couple weeks ago.